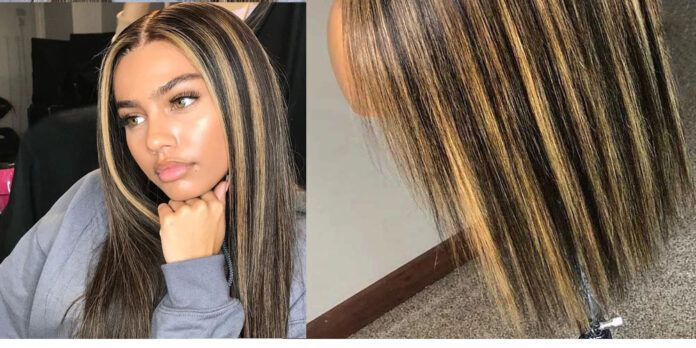 Highlights refer to hairpieces that are lighter than your hair's natural color. For instance, if your base color is brown, you can highlight it using a lighter brown color. Highlighting involves changing your hair bundle using a lightener to color hair strands. You can use natural or unnatural colors when highlighting your hair. Highlighting offers users an amazing experience, and they are a low-maintenance option and require less commitment. Instead of changing the color of your entire wig, which is exhausting, you can only add a few highlighted shades to transform your look.
A highlight wig enhances your hair's color and makes your face look slender. In addition, highlights make your hair look fuller. There are many highlighting techniques that you should know about. These include foil highlights, chunking, hair painting, and frosting. You can highlight your hair at home if you have a tight budget. Although it can be time-consuming and hard for a beginner, knowing a few tips will simplify the process. The article provides a useful guide to adding highlights to your wig.
1. Decide if You Want to Create Highlights at Home
You can use a DIY coloring kit at home to highlight your hair strands. However, specific highlighting techniques require specialized skills, which are better done with experts. If you feel you have the necessary skills and tools to create highlights at home, you should try it out. Remember to leave a 14 days gap in between multiple lighting sessions.
2. Select the Appropriate Highlight Hue
Regardless of where you will highlight your hair, you need to pick the highlight color. Highlights are dimensional strands lighter than your hair so that you can experiment with different color shades. You can choose numerous shades, including brilliant blonde, brown, pastel lavender, and red. To identify the perfect hue, you can check out inspirational images from the internet. You can go for thinner lighting locks or decide to lighten your face-framing hair strands. You are knowing the color you what will allow you to select the right coloring kit.
3. Highlight Your Wig
You can highlight your hair after choosing the right color and DIY kit. Most individuals keep asking about the best way to create highlights. The truth is that there is no singular right away to go about DIY coloring. The best way of creating highlights is by choosing a suitable kit. The at-home coloring kit comes with guidelines to help you apply the highlights. Keep in mind the instructions keep changing depending on the highlight kit you have bought.
4. Taking Care of Your Highlighted Hair Strands
Once you have performed DIY highlighting, you need to adjust your hair care routine. Color-treated hairs require specialized care than regular wigs. You may have to change your wig hair products and buy those safe for treated hair.
Conclusion
Highlights quickly transform your entire look. You can transform your simple look into an incredibly fashionable and amazing hairstyle with highlights. You can create highlights with a simple blonde or brown coloring kit if you have luminous and natural-looking hair. Highlighting services at home or the salon take a few hours. They can take anywhere between one and three hours, including styling. If your hair is shorter, it will likely take less time.